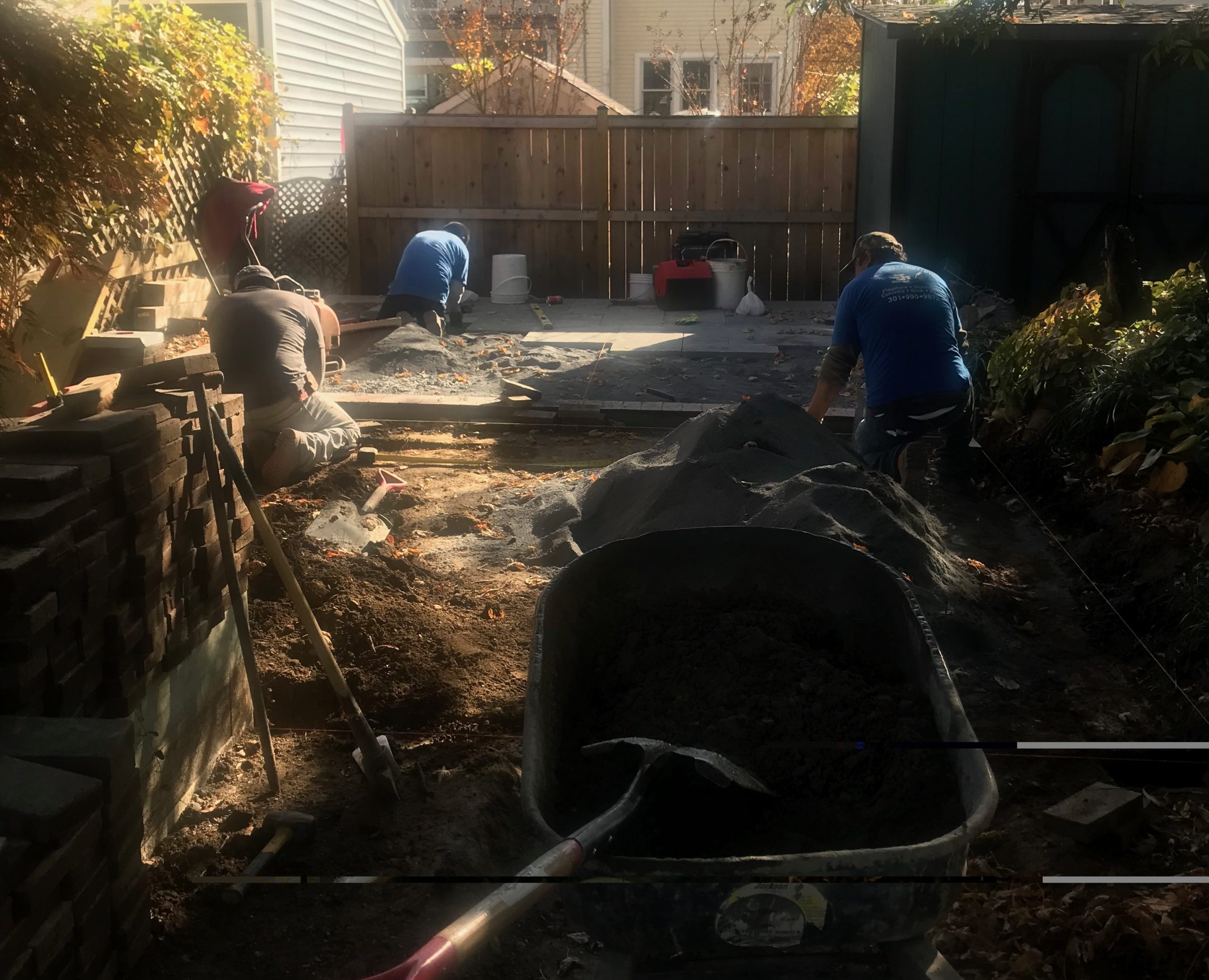 We started our backyard project on July 12, 2021 with the porch.  In November we began rebuilding the raised beds and then, with that done, started on the hardscape.  The original plans needed a few adjustments but Joan, our landscape architect, was on hand daily and progress was inevitable!
First the old patio had to be dug up and the entire back yard leveled.  We saved the bricks  (30 years+) for edging the blue stone pavers and to differentiate the three specific "rooms" we were creating.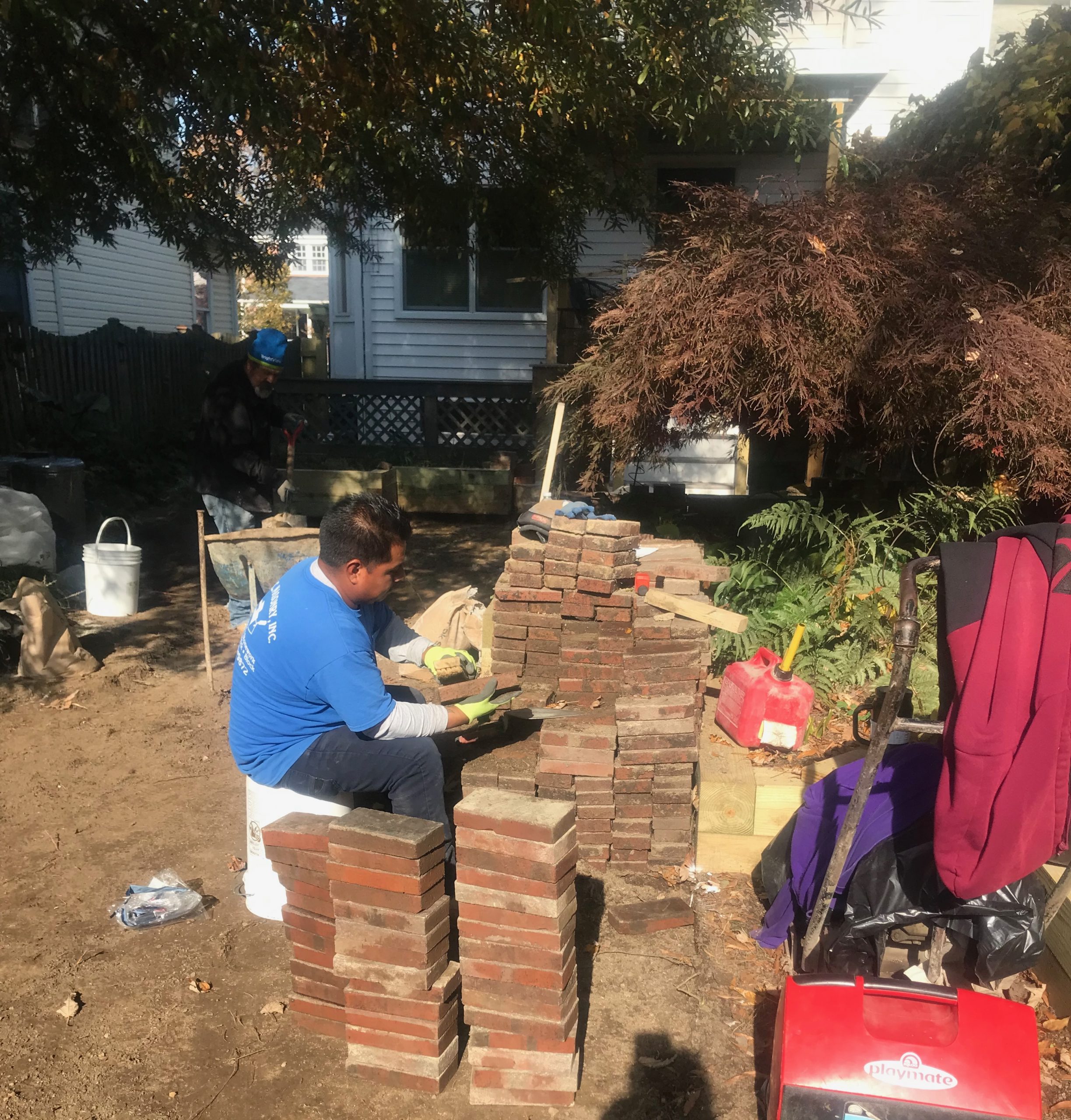 Thank goodness for craftspeople who really know their trade.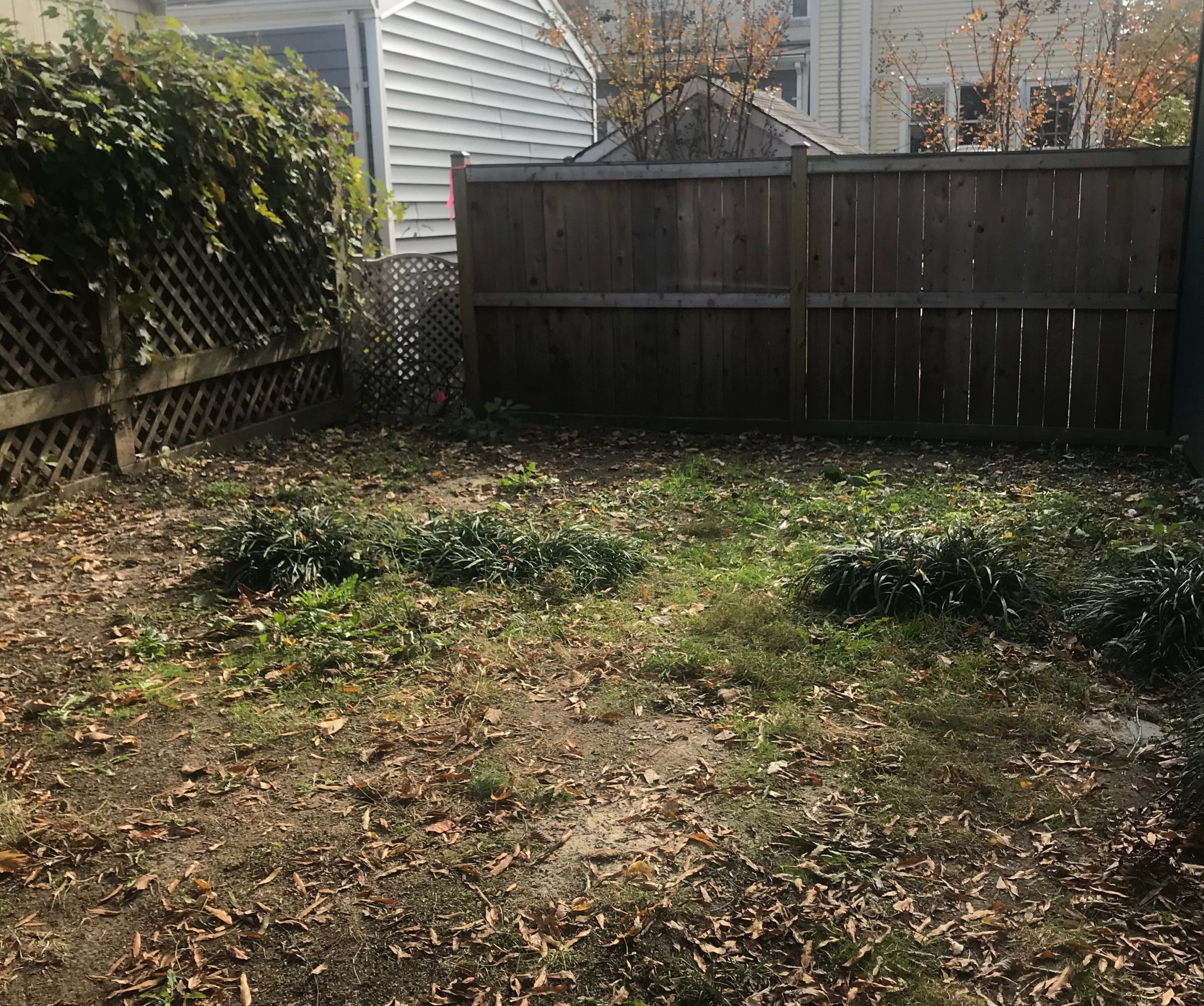 Removing three old, not very healthy holly trees opened up our yard and created much needed space.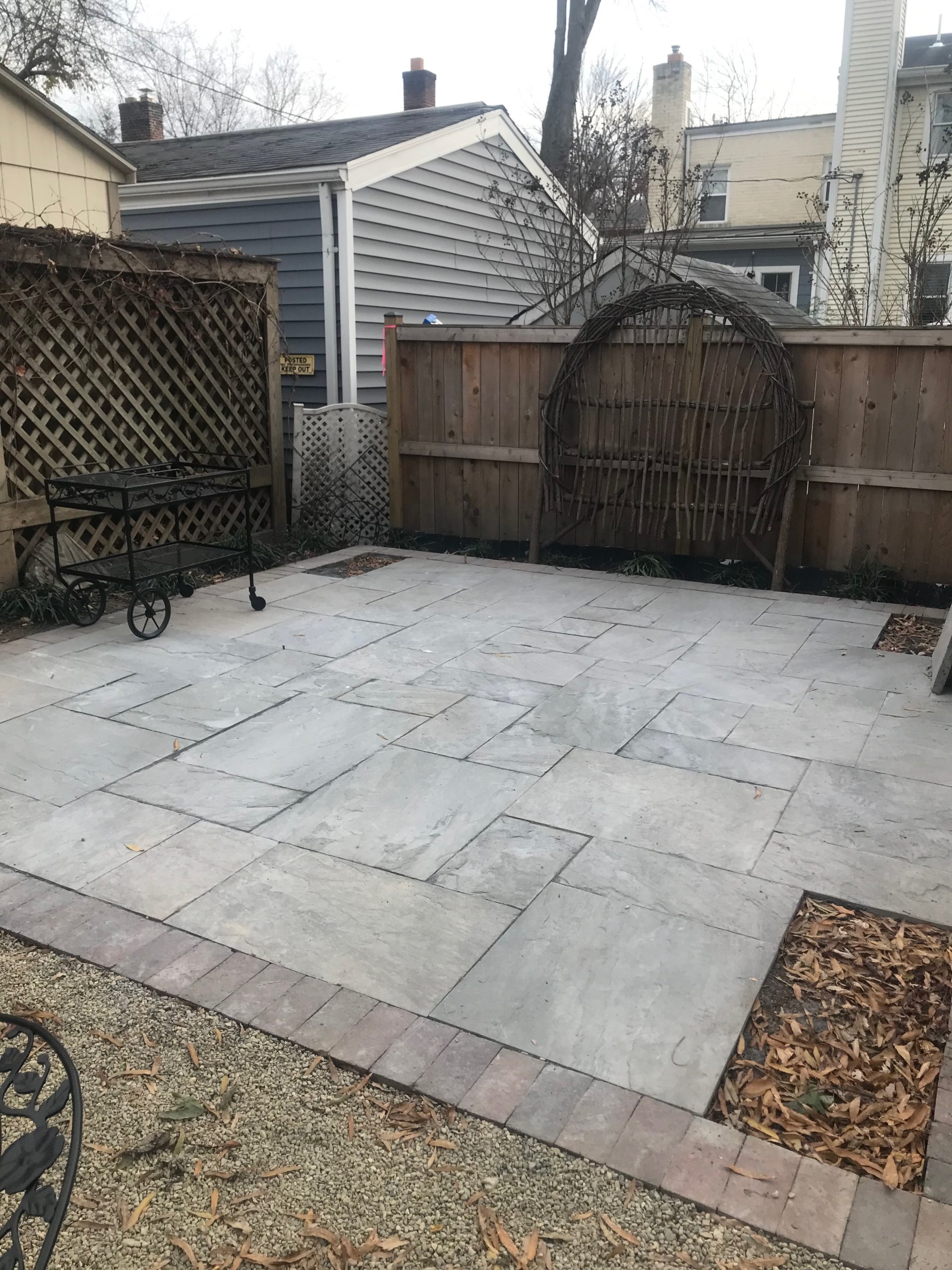 A bluestone patio is a thing of beauty.  And no more grass!
Next up, finishing touches, the final reveal and a few garden shots for good measure.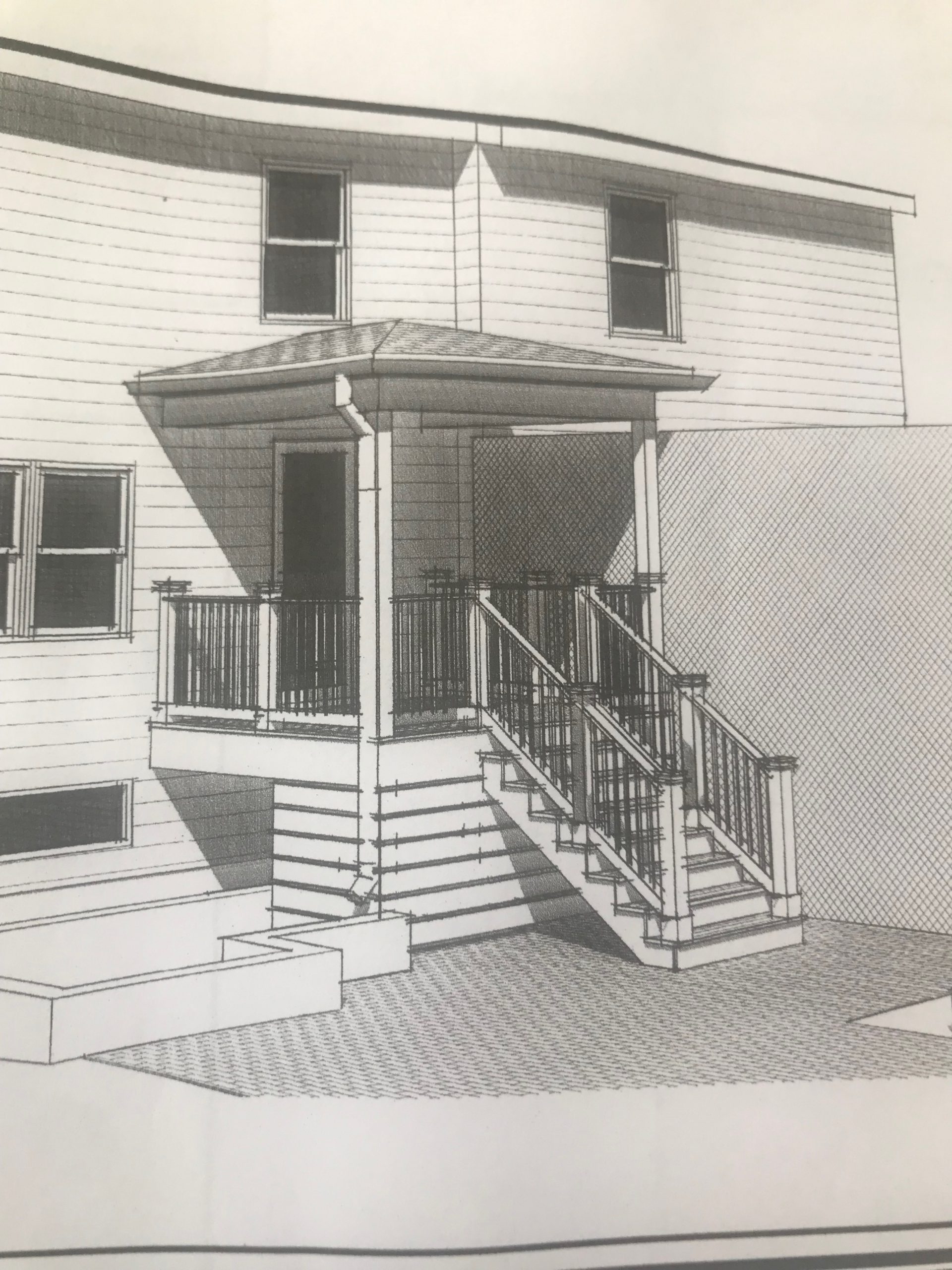 Armed with plans, permits, and my favorite contractor in place, we watched optimistically as our falling apart deck was demolished.  With that done, digging began for the footers to support our new covered porch.
Let me pause here for a moment to say when you add a roof to a porch it triggers a different set of building code criteria for the City of Alexandria.  Most specifically, and because of the marine clay rampant in Del Ray, the planned 3 ft footers became 8 ft. footers – all dug by hand because our narrow side yard would not accommodate any machinery.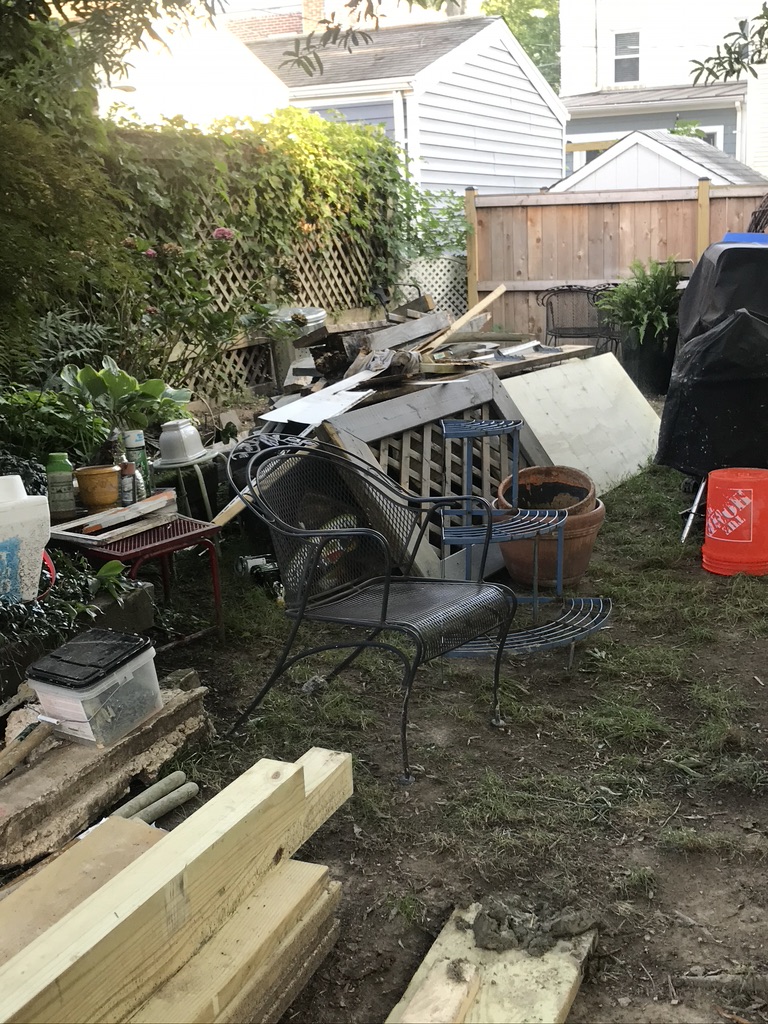 Needless to say it was a mess.  It rained (of course), there was mud everywhere, and the workers, bless their hearts, could have cared less about my garden and where they threw things.  That being said, I was grateful we were at least underway!
But when the framing finally got done – complete with steps and a roof – I knew our dream space was really going to happen.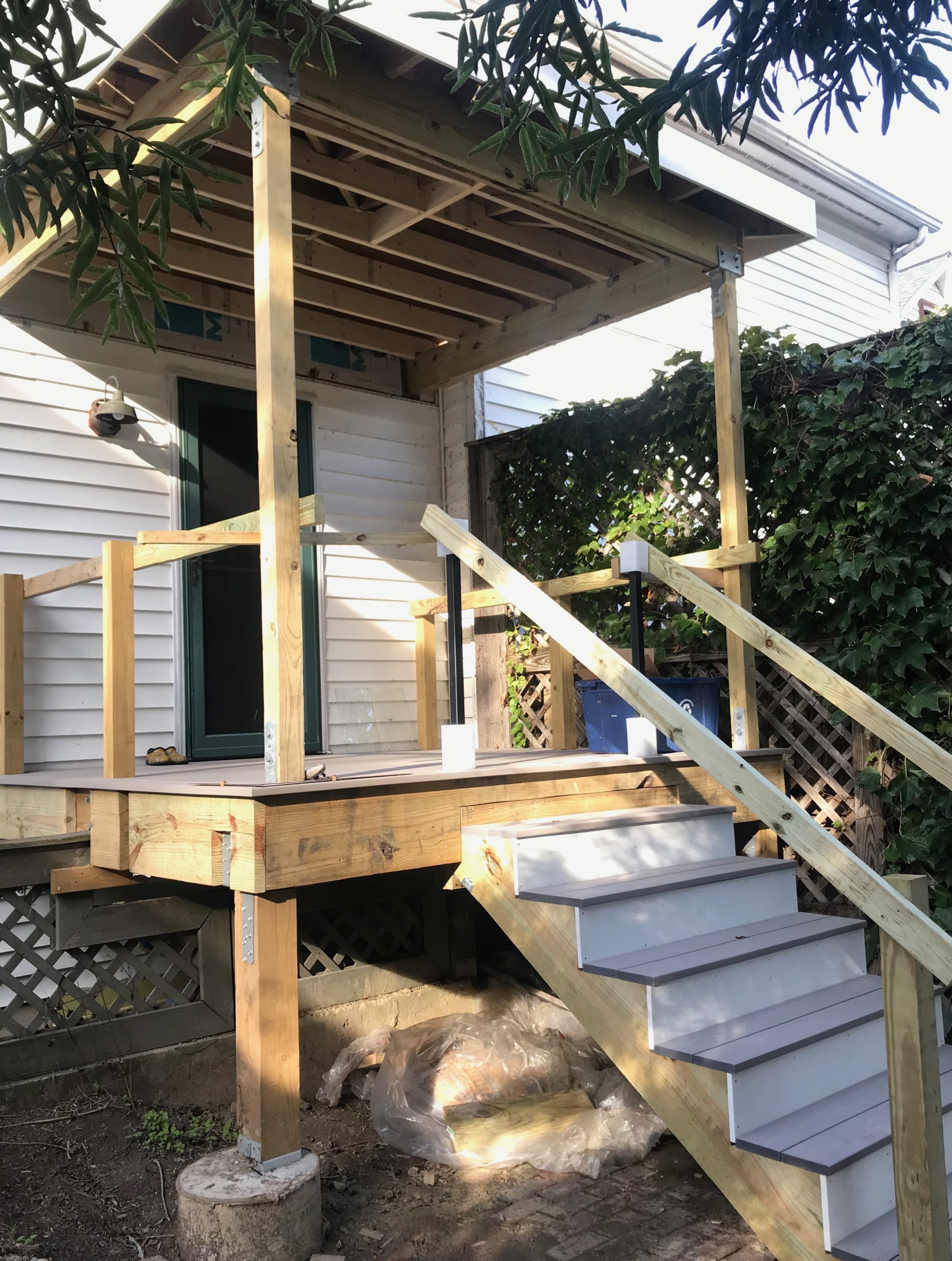 Next up – Part Three – almost to the finish line.
If the pandemic taught us anything it was that outdoor space/green space matters.  Home offices took on enormous importance but also the ability to get outside, whether to eat, play, read a book or join in an endless series of Zoom meetings.
So in mid July 2021 we took the plunge to completely transform our backyard.  For years we lived with a brick patio that served as one semi-adequate space for eating/grilling/having drinks/playing with the dog/etc.  The rest of the yard consisted of raised garden beds, a huge Willow Oak, three large but not very healthy holly trees, a shed, and a swath of grass which quickly devolved into patchy weeds because of the heavy shade.  An ugly generic deck connected the house to the patio.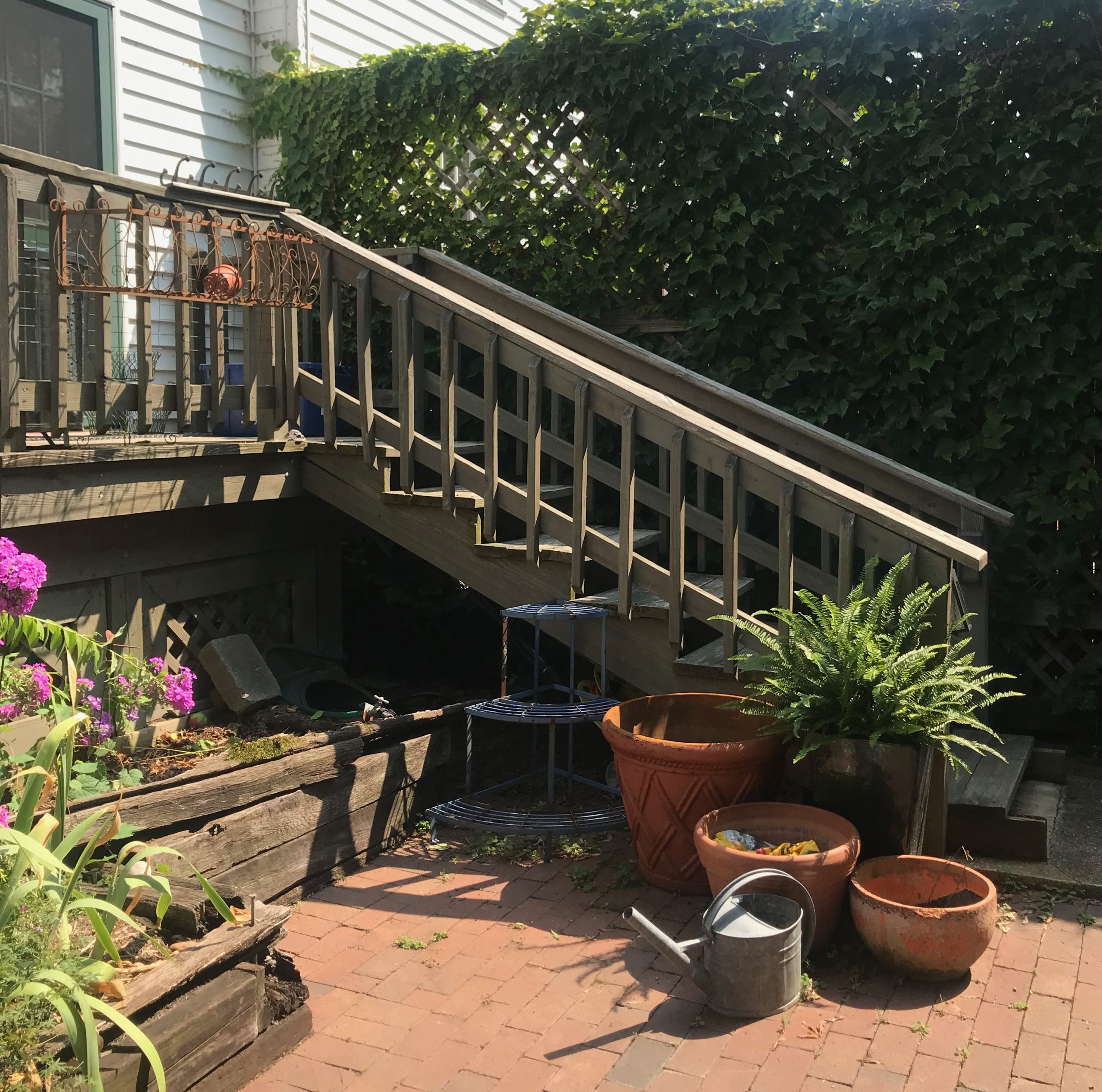 The falling apart deck and rotting railroad ties on the raised beds were the initial impetus but when we removed the diseased holly trees an entire new space opened up!  Time to start dreaming – a place to sit/read/lounge, a pergola, a fire pit, an eating area, a covered porch instead of a deck, a grill with natural gas (that took some convincing for my Weber charcoal loving husband), and NO grass.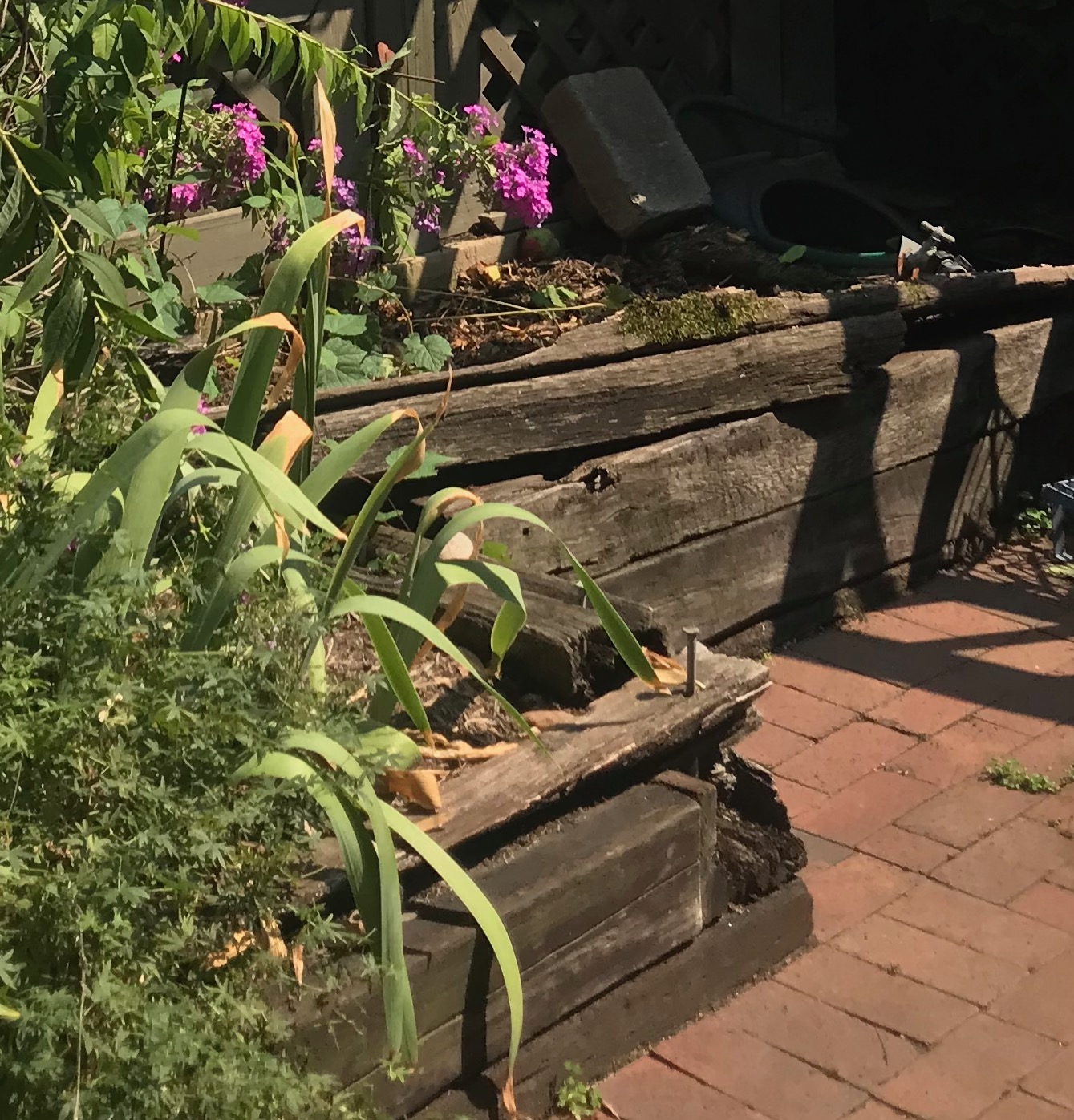 I'm a big believer in hiring experts so I quickly made a call to fellow Del Ray resident and architect Lisa Quant for my back porch and then to Joan Honeyman, the landscape architect who designed our original space some 30 years ago.  They both asked lots of great questions and  provided us with at least three options.  We made our choices pretty easily and then we got to work.
Stay tuned for Part Two  – the great upheaval!
Virginia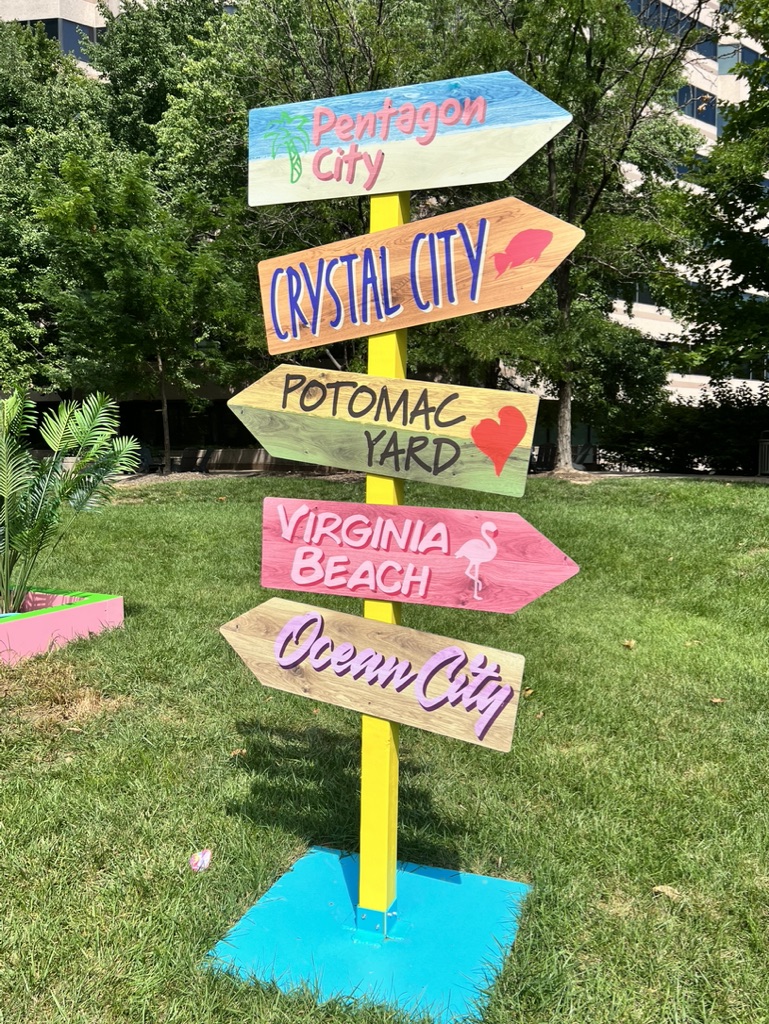 Na La is IN, National Landing is OUT.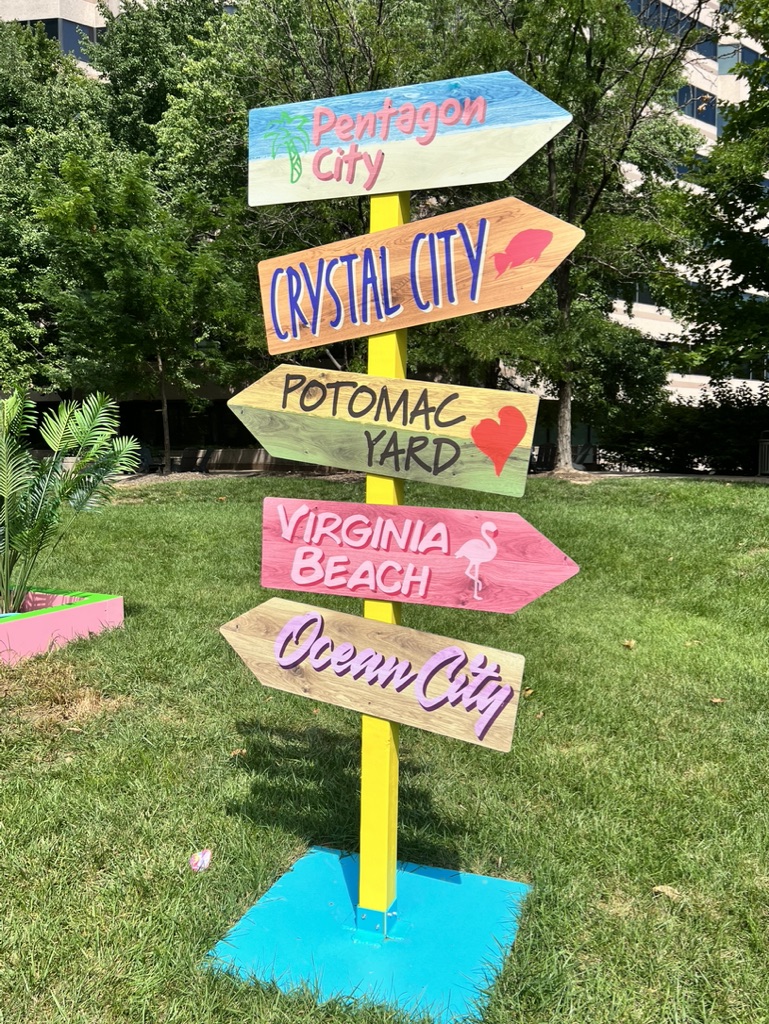 At least for the summer.  The National Landing Business Improvement District (created with the great Amazonian announcement of 2018) has adopted Na La as the moniker for an event series taking place over the summer.  As Tracy Sayegh Gabriel, executive director, noted, it was "a shorthand intended to be fun and punchy".
We went down yesterday to take a look for ourselves and couldn't help but smile.
Using a beach theme, Na La is a brightly welcoming green space next to the entrance to Long Bridge Park.  Picnic tables, adult sand boxes, an AirStream trailer/Beach Club, Friday night entertainment, and outdoor fitness classes are all part of an effort to engage the community and incorporate ongoing changes in the area.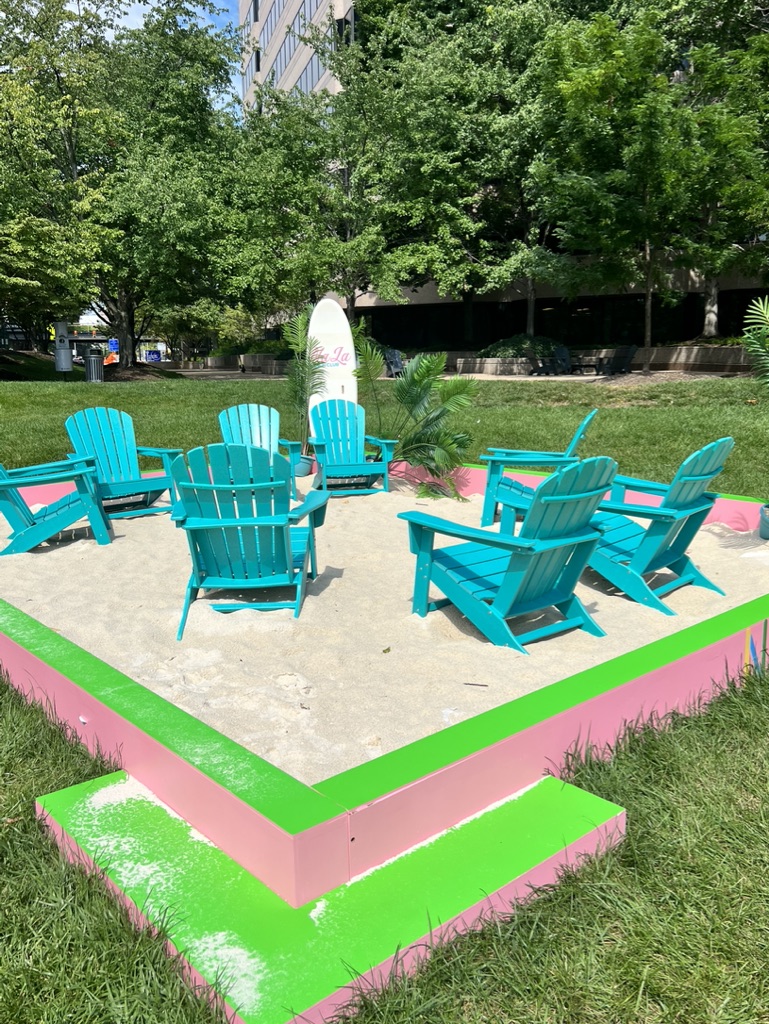 For those who know the South Arlington/Crystal City/National Landing area only from commuting on Richmond Hwy or trips to Costco and Pentagon City there is so much more behind the scenes.  Pocket parks, a new 'water park', a variety of eateries – all those amenities that make urban living, well, liveable.  We think Na La captures the moment perfectly and look forward to more!
Click here to read more about the area and the history behind those two syllable monikers. 
Virginia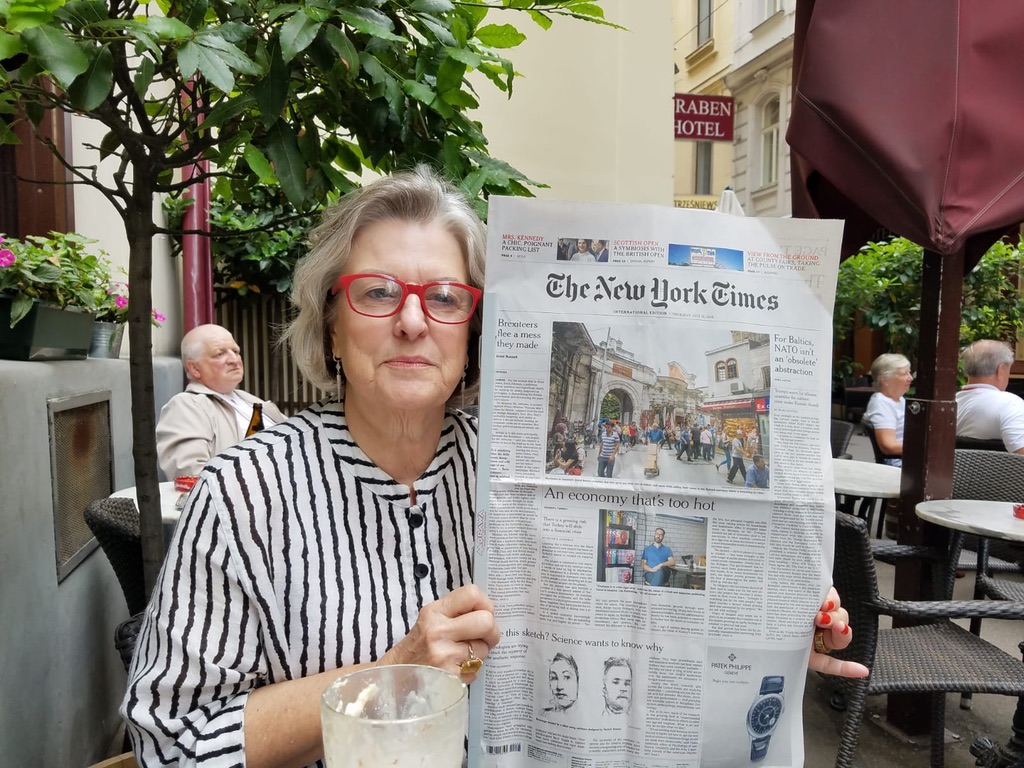 A few years ago I travelled to Vienna and while there was introduced to what I consider the perfect summer drink – Viennese ice coffee.  Imagine an after breakfast, before lunch, stroll through the streets of Vienna – past the famed Lipizzaner Stables and the Schonbrunn Palace and then onto one of the great plazas.
At that point it was time for a cup of coffee, a newspaper from home, and perhaps a nibble.  We ducked down a side street and into a charming cafe with outdoor seating and promptly made ourselves at home.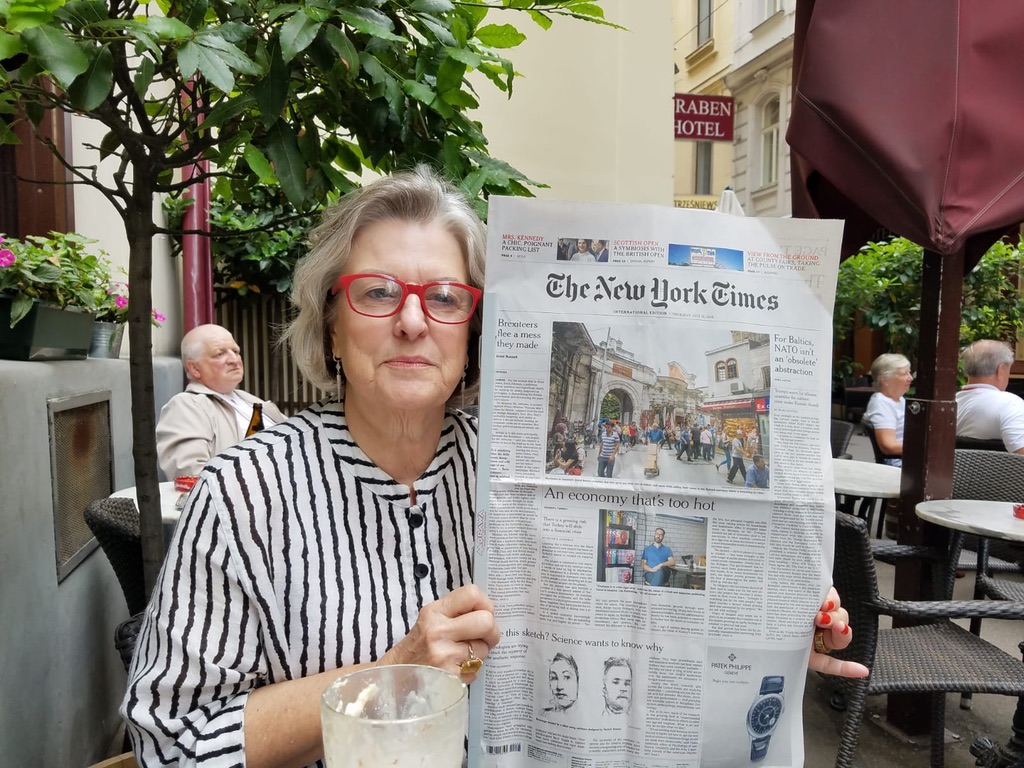 We quickly found copies of the New York Times left by previous traveller's and on a whim I ordered ice coffee.  The waitress questioned me twice about my order and then left.
What I got on her return exceeded any expectations I may have had.  In Vienna, "ice coffee" is actually expresso, vanilla ice cream, and whipped cream served in a tall glass.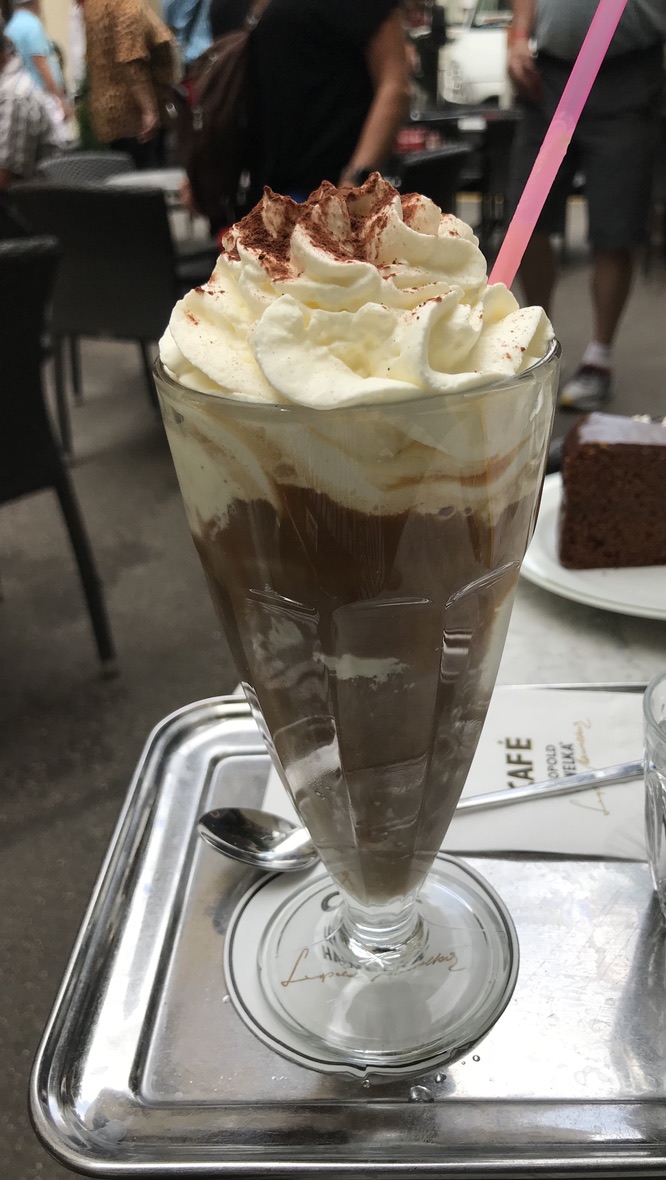 Needless to say I was delighted and "ice coffee" became our password for unexpected deliciousness!
Now to find someone in Alexandria who can replicate this marvel . . . .
Virginia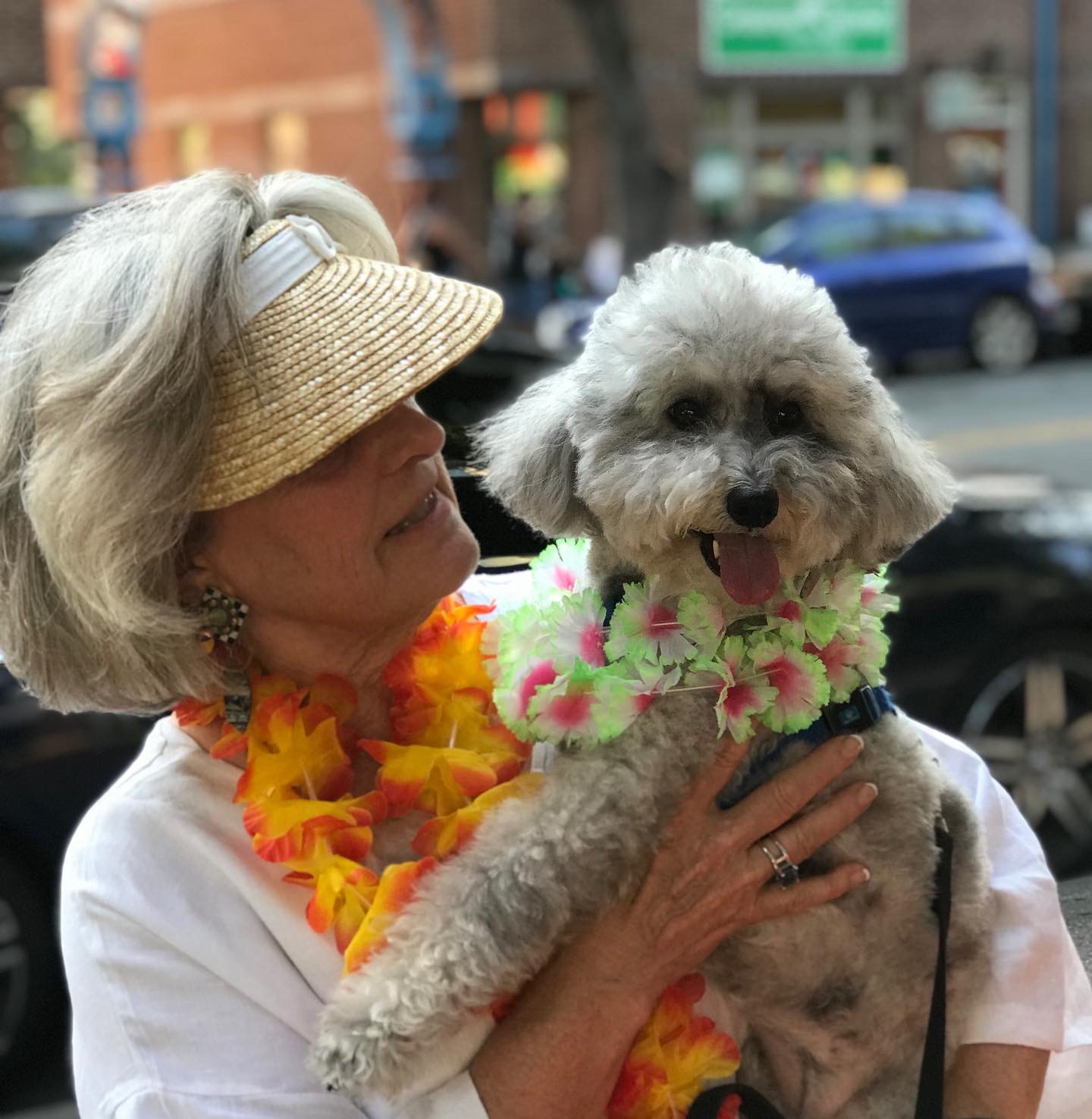 On Thursday, April 28th, 2022 we lost our beloved miniature poodle to sudden heart failure.  A southern girl from Brunswick, GA, (hence the double name), Molly Louise was a constant source of laughter, love, and companionship for over 10 years.  With the most expressive face possible and a BIG personality, she was a presence in the neighborhood.  Her three/four/five walks a day with Michael ensured  she was known by many and adored by all.  She even had a spot at the junction of Howell and LeGrande Avenues in Del Ray designated as "Molly's Corner" with a custom made sign commissioned by a neighbor.   Champion chaser, fierce protector, excellent lap warmer – we miss her.